"You Can Be Perfect or You Can Be Happy" – How to drop perfectionism and lead an imperfectly happy life.
Are you tired of trying to be perfect? So is Karith Foster.
In her latest book, "You Can Be Perfect or You Can Be Happy," Karith Foster reveals the lessons learned as a wife, mother, comic, radio host, and TV personality that showed her how to let go of social media perfection and embrace the beautiful mess that makes a happy life.
Whether it's dealing with the mini-frustrations of baristas who can't quite spell her name right or the little joys of a beautiful day or a cozy sweater, she has learned how to love being imperfectly happy.

During this Book in Conversation event, Karith will be interviewed by Todd Stone, an LGBTQ writer, and comedian who performs with his straight identical twin brother. Karith and Todd met as comedians in NYC's stand-up comedy scene years ago. So along with learning, you're definitely in for some fun!
Karith will share some anecdotes from her book and you will learn:
Why perfection is a game you will never win

How to stop comparing yourself to other people

How to say YES and how to say NO
Where are you on the "Perfect or Happy Scale?" Take the quiz and find out.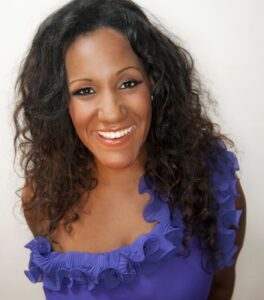 About the Author: Karith Foster

Karith Foster is a speaker, humorist, author & social entrepreneur. For nearly two decades she has taken her passion for entertaining and critical thinking nationwide- from the airwaves to organizations; from universities to corporations creating a seismic shift in mindsets and revolutionizing the way we address issues of diversity (Inversity™), leadership, and most critical self-care.
Her new book, "You Can Be Perfect or You Can Be Happy" debuted at #14 in the Personal Transformation category on Amazon's Best Seller List.
Karith is one of the most sought-after speakers corporations in the areas of Diversity, Leadership, Team Building & Motivation. Karith has appeared on Oprah, Fox & Friends and her TEDx Talk has garnered accolades nationwide.
About the Interviewer: Todd Stone
Todd is a comedian and writer who has written for Comedy Central and truTV. Half of the comedy duo Stone and Stone (with his identical twin brother), he performed multiple times as a finalist on NBC's "Last Comic Standing." He also roasted Dennis Rodman and George Takei at The Friars Club, he performs at comedy clubs throughout New York City, and he recently wrote and starred in an award-winning series called "Going Both Ways." 
He has a master's from the Columbia Graduate School of Journalism and has written for Business Insider, Inc. Magazine, and Advertising  Age. He enjoys writing about innovative companies and how people work and he loves to dance. He has also managed to keep the same ivy plant alive since he was 13!