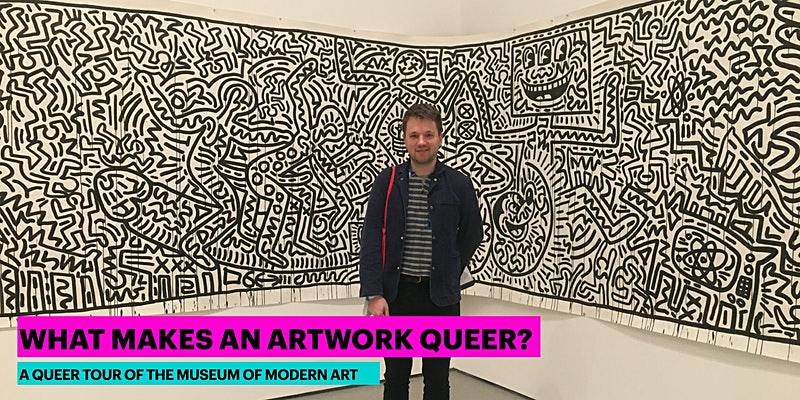 Join George Benson on a tour of New York's Museum of Modern Art to find out what exactly makes an artwork queer.
Why is Frida Kahlo wearing a man's suit?
What do two clocks on a wall have anything to do with being queer?
And why did Robert Rauschenberg stick a stuffed eagle into his painting?
Touring the galleries, this talk takes a very close look at MoMA's world-leading collection of modern and contemporary art to discover queer interpretations of some of MoMA's best-known artworks by iconic artists such as Frida Kahlo, Robert Rauschenberg, Felix-Gonzalez Torres, and Catherine Opie. Giving an overview of 20th-century art, this tour follows the arc of the LGBTQ liberation movement and its effect on the art world, through moments of censorship and prejudice to empowerment and celebration.

Highlights of our virtual tour include:
Frida Kahlo and her controversial self-portrait from 1940.

Robert Rauschenberg and how he queered the artwork after Abstract Expressionism.

A hidden gem in the MoMA's collection, only recently displayed for the first time.

Catherine Opie's defiant and empowering photography.
And much more!
Can't make the live event? Buy a ticket for the recording and watch the event in your own time!
About the Speaker:
George Benson (above in title image) worked for MoMA's Education Department and co-wrote the museum's first-ever queer tour. In the course of his research for the tour, George discovered over 230 queer artists in MoMA's collection and has worked with the museum to advocate a greater representation of queer artists on display. Before moving from the UK to the US, George was co-chair of a group called MuseumPrideLDN, which brought together the LGBTQ networks of over 40 galleries, libraries, archives, and museums to create a support and advocacy group for queer representation in cultural institutions across the UK.
George also worked at The British Museum, where he served in an advisory capacity on the museum's first-ever exhibition dedicated to the queer community, Desire, Love, Identity, a 10,000-year history of same-sex desire. In 2017 George was instrumental in facilitating the flying of the rainbow flag atop the British Museum, the first time the museum—in its 267 year history—had flown any flag other than the Union Jack.