Challenging times can be a catalyst to taking action that you've put off. Learn how to power up and make the best of your situation.
We know the coronavirus pandemic has wrought enormous health and economic challenges that have touched each of us.  However, these trying days can also serve as the wakeup call we need to take control of our lives and even use the extra free time some of us have to finally achieve our goals.


Not getting things done? Sick of your tasks piling up? Get unstuck! I'll take 20 years of experience and put it to use for you in a 90 minute, action-packed webinar.
You'll learn four practical, game-changing tools that will help you prioritize, manage your time, and start producing real-life results!
Here's what you will get from this webinar:

Learn techniques to boost motivation, especially for those tasks you've been pushing off.

Identify the deeper cause of your procrastination and learn practical ways to overcome it.

Learn what cognitive distortions your brain fools you into believing, plus tools to challenge and learn to defeat them!

Learn how to use your unique capabilities to take direct action and move yourself to achieve your goals.
This webinar will help you use these challenging times wisely, feel better in the current situation, and actively build a present and future that you really want.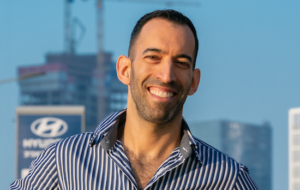 About the Speaker:
Tomi Dagan is a life coach and motivational speaker with expertise in confidence building, self-love, relationships, financial management, and replacing bad habits with healthier ones. He is also an executive life coach with a focus on career strategy, motivation, relationship building, and business development.

Tomi ran his family's successful healthy food conglomerate for over ten years but felt he needed a change from a life focused on business to a career dedicated to changing lives. Now the owner of "Life, Business & Executive Coaching – Tomi Dagan," Tomi speaks to companies and works with individuals stressing the power of choice that we each innately possess to improve the quality of our lives.

Tomi is a graduate of the University of California, Berkeley, and is an enthusiastic motivator for change. As a life coach and motivational speaker, Tomi has worked with hundreds of professionals from all over the world.  He is known for helping individuals and companies break bad habits and replace them with forward-leading behaviors that boost confidence, improve self-efficacy, and provide clients with a happier, more fulfilled life.