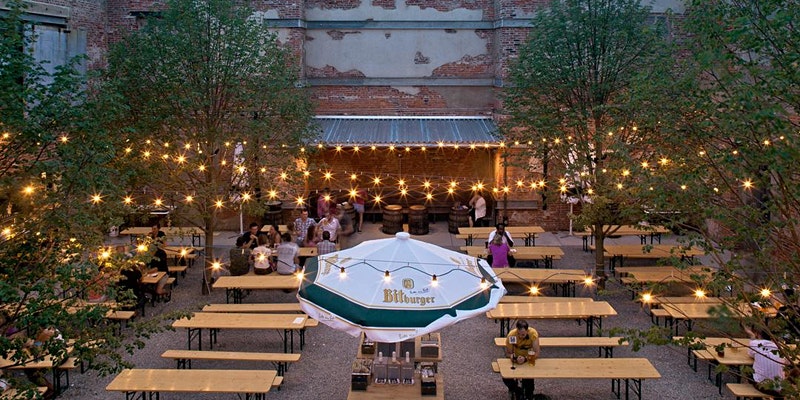 Network with other Out Professionals outside at the launch of our Philadelphia chapter!
Join Out Professionals for the exciting launch of Out Pro Lounge, our monthly networking mixer. We've selected Frankford Hall in Fishtown for its large, open-air garden that allows people to freely meet others. To maximize safety and the freedom to mingle, this event is only open to fully vaccinated individuals.

You'll arrive at our famously friendly monthly networking mixer with an opportunity to meet and make professional connections:
Color-coded industry badges will help you identify and connect with people in your industry or make it easier to identify others who might facilitate a project or fill a business need for you.
Be sure to pocket a handful of business cards to exchange for later follow-up.
Better yet, purchase a Dot for pick-up at the event for seamless networking at later monthly events (see below).
Philadelphia joins New York and Los Angeles in our growing network of city chapters of Out Professionals. Each chapter features an in-person networking mixer as well as professional webinars and other events that help advance the careers of LGBTQ professionals.
What's Up?
Join us outside in the Frankford Hall beer garden for Out Pro's first event in Philadelphia:
Advance registration closes at 3:00 pm on the day of the event. Walk-ins are welcome ($10 donation), but registering in advance speeds your admission.
We look forward to meeting you in Fishtown!
Participation Agreement
To attend this in-person event, every registrant must agree to the following:
Bring and show proof of vaccination with photo ID at the door. Acceptable proof includes a completed COVID-19 vaccination card with the second dose received before October 20, 2021. A photo of your completed vaccination card is also acceptable.
You agree to abide by the current safety protocols of the CDC and PA/Philadelphia in place at the time of the event.
Be kind to your fellow professionals. Regardless of any requirement, some may choose to wear a mask. Please treat them equally.