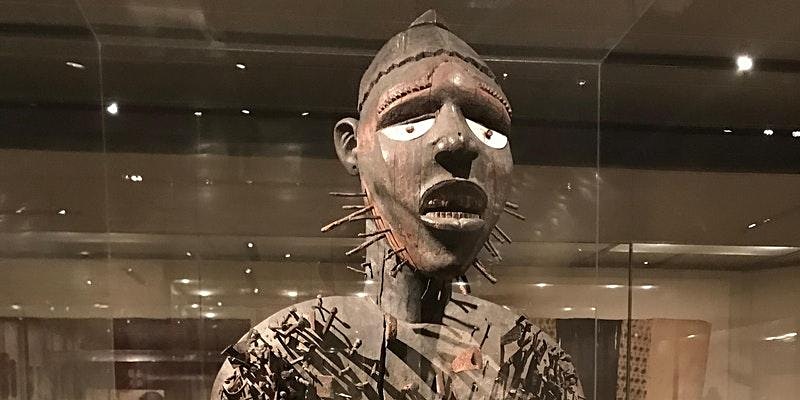 Come see the Met from a different angle—as a cemetery—with corpses, magic objects, ghosts—enough to make a great creepy Halloween afternoon!
Can't make the live virtual event? You can watch the video recording at your convenience for 2 weeks.
Do you think of the Met as all Classical nudes and Renaissance Madonnas? Well, look again! In the obscure and hidden corners of the museum there's a world of strange, unusual and sometimes chilling artifacts—things you'd never imagine are hiding in plain sight.

But they form part of our heritage, and reveal things about us that are a counterpoint to our traditional views about what constitutes art. On this intriguing two-hour tour you'll encounter the Met's surprisingly large collection of corpses:
Learn about the vases in which the ancient Egyptians stored mummified livers, entrails, and lungs—and just how important those bits and pieces were for the afterlife;

Find out about New Guinea's headhunters, and see the hooks they hung their enemies' skulls on;

Learn why African power figures are stuck full of nails;

Meet the Met's only painting with two castrati; and

Discover if the cradle that rocks itself will rock for you!
Once you've completed this tour, you'll see the Met as more than just a house of art—it's also a giant cemetery, a cabinet of curios, and a map to the less-explored recesses of the human mind. And you'll realize that in addition to celebrating beauty, art also explores anxiety, death, violence, and our darkest fears.
Can't make the live event? Buy a ticket for the recording and watch the event in your own time!
About the Speaker:
Prof. Andrew Lear is a renowned expert on same-sex relations in Greek and Roman antiquity. During his academic career, he taught at Harvard, Pomona College, and NYU. In recent years, he has founded Oscar Wilde Tours, the LGBTQ history and culture tour company, and Shady Ladies Tours, a women's history and culture tour company. He is also working with actor/author Stephen Fry on a podcast about the "Scandals and Secrets of London's National Portrait Gallery."