Out Professionals invites you to climb aboard Professor Andrew Lear's newest private tour, 'Dressed to Kill.' at the Met.

On Saturday, March 28, at 1 p.m., Out Professionals invites you to the Metropolitan Museum of Art to explore the changing styles of beauty — and the astonishing lengths to which people have gone to attain it. Your expert companion? Professor Andrew Lear, four-time winner of the Harvard Certificate for Excellence in Teaching.
Lear's 'Dressed to Kill' opens your eyes to some of the most fascinating, bizarre and painful things people have done throughout history to look impressive, alluring and downright amazing.

From the grand hairdos of Imperial Rome to the outrageous wigs of the court at Versailles; from gold ear spools in pre-Columbian America to neck rings in Africa and Southeast Asia; and from 300 years of torturous corsets to 3000 years of artful cosmetics, the history of fashion is on dazzling display at the Met.
Professor Lear looks at both men's and women's fashion from head to toe, as well as inside out. (Just what did Victorian women wear underneath those giant hoops?) He looks at men, too—with their powdered wigs, white makeup, foppish ruffs and of course, those eyebrow-raising codpieces.
He goes beneath the surface to get to the real story: the political, social, and even medical currents that shaped fashion and how it changed:
Why did French courtiers wear foot-high wigs in the 17th century?
Were beauty spots really used to cover up syphilis?
What clothing was dyed with cyanide and poisoned its wearers over time?
How did bicycles affect the way women dressed in the closing years of the 19th century?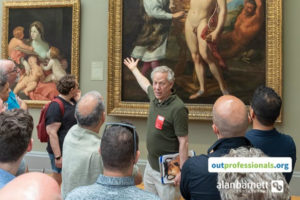 Professor Andrew Lear has taught art history and Classics at Harvard, Columbia and NYU. Lear is the founder of Oscar Wilde Tours, the first company to offer tours focused on LGBT history, and the winner of the Travel Industry's 2016 Travvy Award for best escorted tour operator, LGBT; and the Luxury Travel Guide's 2016 LGBT Tour Operator of the Year.
---

WHAT'S UP
Limited to 20 persons, today's tour departs promptly at 1 p.m. and lasts approximately two hours. Your Out Professionals ticket includes admission to the Met's galleries, cafe and store until 9 p.m. "Dressed to Kill at the Met" is not an official Met offering.
WHERE – IMPORTANT – PLEASE READ
The Metropolitan Museum of Art, 1000 Fifth Avenue at 82nd Street. Subway: Q/4/5 to 86th Street, 6 to 77th Street. Ascend the main staircase and enter the Great Hall. We meet to the right, beside the 10-foot-tall Egyptian statue of a seated pharaoh. NOTE: Allow a minimum of 15 minutes to walk from the subway. Expect weekend crowds. Plan to meet at the pharaoh at least 15 minutes before tour departure.
ADMISSION BY PRE-REGISTRATION ONLY
Nonmember, $55, museum entry included. Dues-paying OP Member, $45. Met Museum member or student, $45. Quick response advised: These private tours typically sell out in record time. If tickets are available, advance ticketing ends at 5pm on Friday, March 27. Walk-ins accommodated on a standby basis.  Sorry, no refunds or exchanges. Museum member or student: Your Met or student ID is required. Pocket a copy of your online receipt; thanks!
OUT PROFESSIONALS REWARDS YOUR MEMBERSHIP SUPPORT!
As a registered nonprofit, Out Professionals relies on the support of our loyal Individual and Business Members. Why not join them? Enjoy a 12-month Individual OP Membership PLUS one tour ticket — museum entry included —for just $95; final sale. Membership includes free entry to every month's OP.LOUNGE and and free or discounted admission at all other OP events.
---
Photos: Left, "Mrs. Grace Dalrymple Elliott" 1778, by Thomas Gainsborough. Center, "Young Man with a Greyhound" 1570s, by Paolo Veronese. Right, "Saint Justina of Padua" 1490s, by Bartolomeo Montagna.