CONNECT WITH OTHER BUSINESS PROFESSIONALS AT BIZCONNECT.
OUT PROFESSIONALS INVITES YOU TO GROW YOUR BUSINESS BY MARKETING IT AT BIZCONNECT.
BizConnect is an exciting new Out Professionals series aimed at fostering business relationships among LGBT+ self-starters — present and potential entrepreneurs, business owners and other client-oriented professionals.
You are invited to BizConnect's official launch on Wednesday, March 13, at Emerge212's elevated office space at 1185 Avenue of the Americas location. With 3 locations in Midtown, Emerge212's unique coworking spaces bring style, sophistication and service to officing, and we are thrilled they have opened their doors exclusively for this event.
Grow your business by forming new business relationships, identifying potential clients and vendors, and expanding your referral network with other LGBT+ business professionals.
To prepare, bring 50 business cards or flyers and rehearse a 30-second introduction: Who are you? What do you do? What do you want out of tonight's event?
This inaugural edition of BizConnect is limited to 100 registrants. You are invited to enjoy an open bar and light fare. By registering in advance, you gain priority access to future events in this innovative B2B networking series.
Special thanks to our sponsor and host for the evening, Emerge212. Emerge212 is New York City's premier operator of full-service office suites characterized by a high-end, unique design aesthetic … today's most advanced technology solutions … and seasoned staff to accommodate the needs of a [growing business. Past and present clientele, ranging from established companies to nimble entrepreneurs, choose Emerge212 for its sophisticated style and strategic approach to service. Not just an office space for its clients, Emerge212 is an extension of their businesses, allowing them to focus on operating, not operations. Emerge212 fully represents the verve, style and creativity that is innately New York, with three locations: 3 Columbus Circle, 125 Park Avenue, and 1185 Avenue of the Americas. Emerge212 is a wholly-owned subsidiary of SL Green Realty Corp., an S&P 500 company and New York City's largest commercial landlord. As an Out Professionals Member, you qualify for discounts on office space, virtual office packages and conference/meeting room bookings.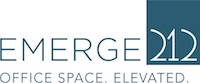 ---
WHAT'S UP
From 6:30 to 8:30 p.m., purposeful networking for LGBT+ entrepreneurs, business owners, client-oriented professionals, and other self-starters. Please arrive on time. Open bar, light fare.
WHERE 
Emerge212, 1185 Sixth Avenue, adjacent to Rockefeller Center. Subway: B/D/F/M to 47-50 Streets/Rockefeller Center; N/R/W to 49th Street.
ADMISSION
Nonmember, $35. Dues-paying Out Professionals Member, $25. Dues-paying OP Business Member, just $15. To guarantee your place, register now. Preregistration ends at noon on March 13. Pocket a copy of your online receipt; thanks. Walk-ins welcome, space permitting.
ATTEND FREE WHEN YOU JOIN OR REJOIN AS A BUSINESS MEMBER
As a registered nonprofit, Out Professionals relies on the continuing support of our Individual and Business Members. Enjoy a 12-month Individual OP Membership PLUS admission tonight for just $80. Or enjoy the enhanced benefits of Business Membership ($125), and by registering in advance, attend tonight's workshop and other selected OP seminars and workshops, free! All sales final. Membership entitles you to free entry at every month's OP.LOUNGE and free or discounted admission at other OP events.