Explore the LGBTQ stories hidden in the art at Boston's Museum of Fine Arts with Professor Andrew Lear!

Can't make the live event? Buy a ticket for the recording and watch the event in your own time!
Boston is known for its Puritanism, but somehow, the Museum of Fine Arts never got the memo. In art circles, it is well known that Boston's MFA has the world's greatest collection of LGBTQ-themed Classical Greek and Roman art. It is less well known that the MFA's collections are extraordinarily rich in LGBTQ art of other cultures as well.
On this tour fun and informative tour, we will discover:
the male/male couple that were ancient Athens' Uncle Sam

the god Priapus and what he did with his huge appendage

the sexiest Jesus of the Italian Renaissance

19th century women artists and their 'Boston marriages'

painter John Singer Sargent's secret obsession

and a gender-queer person we bet you've never noticed in a famous impressionist canvas!
Come on our tour and you will never see the MFA the same way again!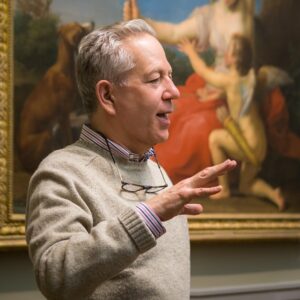 About the Speaker:
Andrew Lear is a retired professor of ancient Greek—and a world expert on same-sex love in ancient Greek culture and art. He is the founder of Oscar Wilde Tours, the world's first and only LGBTQ history and art tour company, and Shady Ladies Tours, the women's history and art tour company. He is also working with author/actor Stephen Fry to develop TV programming on LGBTQ history and culture.
For over five years Professor Lear has been Out Professionals' host for in-person tours of the Metropolitan Museum of Art in New York City, including the perennial favorite, "LGBTQ Secrets of the Met." Out Professionals looks forward to the return of in-person museum tours.
FAQs
When will the Zoom invite come?
The Zoom invite will be in the confirmation email from your order and it will be sent to your email address at 48hrs, 2hrs, and 10mins before the event. PLEASE CHECK YOUR SPAM AND SOCIAL FOLDERS IF YOU DO NOT SEE THE ZOOM INVITE IN YOUR INBOX. If you do not receive a Zoom invitation by 1hr before the event please get in contact with us.
What time zone is the event scheduled in?
The live event is scheduled for 12pm EST (i.e. New York time). You can watch it in any time zone but please adjust to the time zone you are in.
I'm an Out Professionals Supporting Member. May I attend free?
This event is in partnership with Oscar Wilde Tours. This partner event is not free with membership. However, your donation helps support LGBTQ tour guides during the COVID crisis. They thank you for your support.